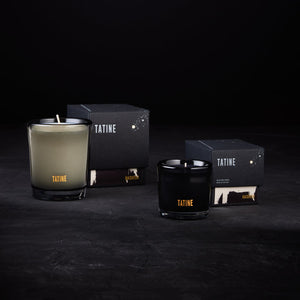 Hashish Candle - 3oz Petite Black Wax
Regular price
Sale price
$29.26
---
A scented tribute inspired by The Beatles' late-night recording sessions of The White Album in 1968.
With the lights down low and the music up loud, the band drifts into a creative haze fueled by perfumed hashish smoke and half-filled glasses of red wine.

High notes of gummy ashtray resins fall into embers of fire and ash. Tart green rhubarb and peppery citrus accords weave into jammy notes of cassis. Hindu buds and violets emerge and melt into dark patchouli, saffron, and the smell of smoky woody guitars. Ethereal yet powerful, meant for moments when you feel like letting go.
DETAILS 
Natural Wax Candle in Smoke Grey Mouth Blown Glassware

Not a trace of petroleum-derived paraffin is used in our wax formulation.

Composed of an exquisite blend of bespoke perfume oils and essential oils, which are phthalate-free and crafted with cotton wicking.

Poured into artisan mouth-blown glassware exclusive to Tatine, crafted to be drink safe. Gently hand wash or place the glass in the dishwasher for use at your next celebration and let it live uniquely on.

The packaging for this collection is made from 100% post-consumer materials, richly textured and beautifully repurposed. Every parcel is unique and variations in the paper are a testament to its natural character.
The boxes are printed in Chicago with craft manufacturing, adorned with locally-sourced, 100% recyclable labels featuring a kindred design collaboration between two Chicago female artists and Tatine, working in shared inspiration from music, poetry, and abstract painting. 

Flatten the beautiful origami-style box, as the scent of each candle leaves its mark and can be slipped into a drawer to emit a delicate fragrance.
PETITE 3 OUNCE BLACK WAX
up to 16 hours of a delicate fragrant atmosphere when burned properly.

Our petite candles are tinted black with ingredients extracted from vegetable oils that are both Prop65 and REACH compliant.

Inky black when lit, a light grey crystallization or texture may appear on the unlit candle surface. This is considered a unique part of working with natural colorants.